A handheld blender, also referred to as stick blender, is one of the most widely used kitchen tools. However, there remain a lot of people who are unsure if they should invest in a handheld or counter top blender. In a nutshell, handheld blenders look like a small version of a hand mixer. It has a long stick-like shaft and a single rotating blade, unlike standard blenders which have two blades and use a bowl to belnd automatically. They usually incorporate a blade guard around the mixer to prevent injury. The shaft is usually made of plastic or stainless steel while the blades are made of steel.
Because of its small size, it can be used to blend items within stock pots, jars or bowls. This makes it different from traditional blenders wherein you will have to combine all the ingredients in the mixing bowl. This is only one of the benefits of using a hand blender. In fact, handheld blenders have a variety of advantages making it popular among many industry professionals and consumers.
Here's our list of TOP 10 BEST BRANDED HAND BLENDERS IN INDIA
1.Panasonic MX-SS40BSM 600-Watt Hand Blender with Chopper and Slicer (Black) – @ Rs.5,295
FEATURES:
Ergonomic shape and fits your hand conveniently
Large chopping and slicing jar
Deluxe stainless blender bar
Powerful 600W motor
Step less variable speed control
Comes with slicing attachment
Beater attachment
Warranty: 1 year on product
Power: 600 watts; Operating Voltage: 220 – 240 volts
Includes: Hand Blender, Stainless steel stem, Slicing attachment, Beaker, Mixing attachment, Wall bracket, Warranty card and User manual
2.Braun MQ325 HAZD064819 550W Hand Blender with Chopper and Whisk (Multicolour) – @ Rs.5,900
FEATURES:
Enter your model number to make sure this fits.
2 Speed Control
550 W motor.
Patented hand blending technology proven to produce finer more even results.
Includes 600 ml plastic beaker, BPA free, with ml and fl oz measurements.
3.Bajaj HM 01 250-Watt Hand Blender (Black) from Amazon For Only – @ Rs.1,520
FEATURES:
This product does not require installation. please contact brand customer care for any product related queires. Customer Service Number: 18001025963
3 speed control for superior beating experience
Cromeplated dough, beater attachment and 3 speed selection
Stylish design
Warranty: 2 years on product
Power: 250 watts
Included Components: Hand blender and Warranty card
Please contact_us on: [ 18001025963 ]
Included Components: Hand mixer and Warranty card
4.Wonderchef Eleganza 63152253 550-Watt 2-in-1 Hand Blender (Black/Silver) – @ Rs.3,049
FEATURES:
2-speed soft touch switch
Powerful 550W motor with every low noise
600ml measuring cup
500ml chopper bowl
Warranty: 2 years on product
Power: 550 watts
Includes: Hand blender
5.Boss B101 125-Watt Portable Blender, Grey from Amazon For Only – @ Rs.1,059
FEATURES:
Easy to clean and operate
3 stainless steel blades to do the variety of jobs effortlessly
Warranty: 2 years on motor
Power: 125 watts
Operating voltage: 230 volts
Includes: blender with 3 blades, wall mounting stand, user manual with warranty card
6.Prestige PHB 6.0 200 Watt 2 Speed Hand Blender with Blending Jar, Chopping, Whisking Attachment – @ Rs.1,755
FEATURES:
Content: prestige hand blender with blending jar chopper ,whisking attachemnt and wall hook -phb 6.0
Net quantity: 1 unit
Voltage: 230v
Wattage: 200w
Warranty: 1 year
Troubleshooting guidelines: use the hand blender only for intended use as described in the instruction manual
Power – 200 watts motor
No. Of speed settings – 2
7.Morphy Richards HBCP 400-Watt Hand Blender (White) from Amazon For Only – @ Rs.1,960
FEATURES:
Chopper and beaker attachments
2 speed soft push button
Warranty: 2 years on product
Power: 400 watts; Operating voltage: 230 volts
Includes: Hand blender, Chopper attachment, Measuring beaker, Instruction manual, Customer care list and Guarantee card
contact_us on: [ 18001035963 ]
8.Pigeon Modern Cucina HB 1.0 150 W Hand Blender(White, Lagoon Green) – @ Rs.725

FEATURES:
Pigeon Modern Cucina HB 1.0 White and Green
Sales Package: 1 Hand Blender Fully Assembled, Warranty Manual
Model: Modern Cucina HB 1.0
Body Material: Body Made of 100% Virgin ABS for High Shine and Strength
Blade Material: Stainless Steel
Blending: Yes
Chopping: Yes
Pureeing: Yes
Stirring: Yes
Frequency: 50 – 60 Hz
Safety Features: Overload Protection, Ergonomic Design for Better Grip
Width: 0.65 cm
Height: 3.56 cm
Depth: 0.65 cm
Service Type: Customer Should Register The Complaint Through Toll Free Number or Email Id Mentioned on The Box. Customer Can Also Choose to Visit The Nearest Service Center if Available in the Area
Warranty Summary: 2 Years Warranty
Covered In Warranty: Manufacturing Defects
Not Covered In Warranty: Physical Damage
Domestic Warranty: 2 Year
International Warranty: 2 Year
9.Nova NHM-2109 7 Speed 150 w 150 W Hand Blender(White) – @ Rs.1,099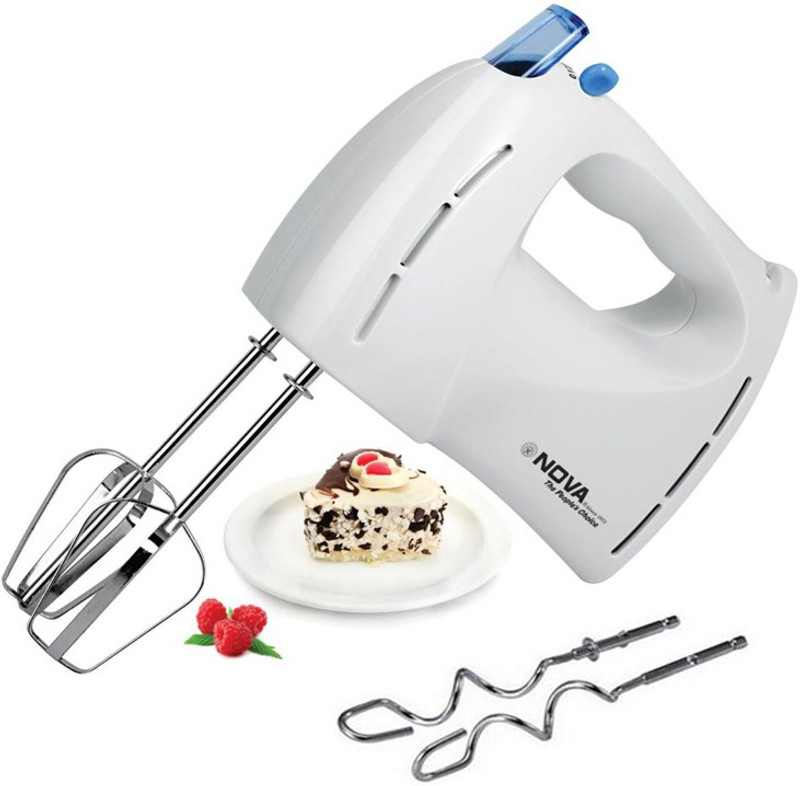 FEATURES:
Hand Blender
Power Consumed:150 W
Nova NHM-2109 7 speed hand mixer. It is combo of blender, mixer and whipper. It has eject safety button and 1st-2nd speed for bulk and dry foods such as flour, butter and potatoes, 3rd speed to start liquid ingredients for mixing salad dressings and 4th speed for mixing cakes, cookies and quick breads.
Sales Package: Hand blender, User Manual
Model: NHM-2109 7 Speed 150 w
Series: pro series
Body Material: Plastic
Blade Material: Steel
Lock System: yes
Blending: Yes
Chopping: Yes
Pureeing: Yes
Stirring: Yes
Frequency: 50-60 HZ Hz
Safety Features: with lock function
Cord Length: 1.8 m
Width: 2.1 cm
Height: 1.75 cm
Depth: 0.9 cm
Weight: 0.893 kg
Service Type: For warranty claims or product related issues please email at [email protected] or call us at 8880663291
Warranty Summary: 1 Year Nova India warranty
Covered In Warranty: warranty of the product is covered under manufacturing defects
Not Covered In Warranty: Warranty does not cover damage caused to the product due to improper handling by customer.
Domestic Warranty: 1 Year
International Warranty: 1 Year
10.Bosch MSM2650B 600 W Hand Blender(Black) from Flipkart For Only – @ Rs.3,099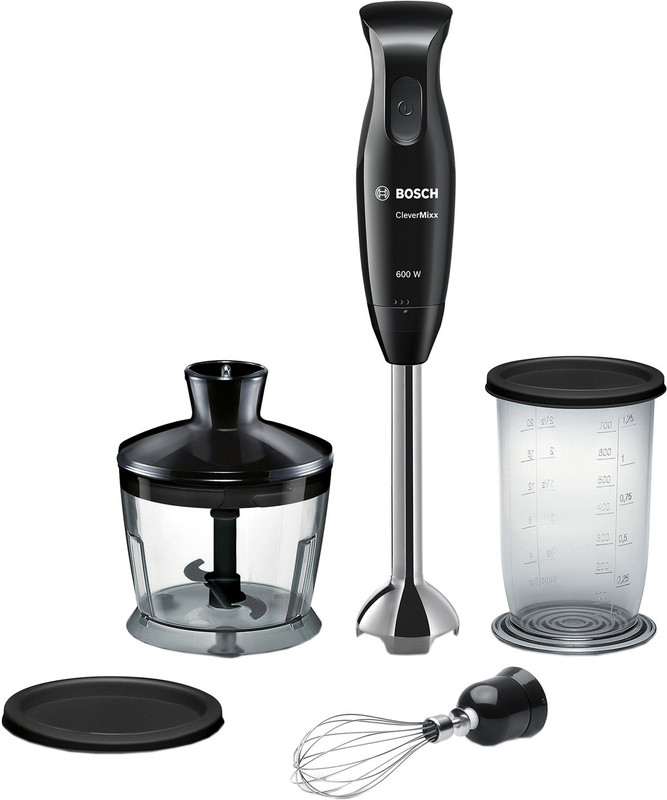 FEATURES:
Hand Blender
Power Consumed:600 W
Power Supply: AC 220 – 240 V V
Functions:Beating
Make meringues, marshmallow fluff and frosting for your desserts right at home with this hand blender from Bosch. You can even make chutneys, purees, soups and much more in no time as it comes with a Powerful 600 W Motor, a handy Mini Chopper and a Sharpened Four-winged Quattro Blade.
Sales Package: 1 Hand Blender, 2 Lid, Mixing, Measuring Beaker, Stainless Steel Mixing Wand, Beating Whisk, Universal Shredder
Model: MSM2650B
Body Material: BPA Free Plastic
Blade Material: Stainless Steel
Lock System: Easy Locking
Blending: Yes
Chopping: Yes
Pureeing: Yes
Stirring: Yes
Cord Length: 0.8 m
Service Type: Customer Needs to Log a Call and the Product Gets Replaced at his Place within the Stipulated Municipal Limits (Subject to Periodic Review)
Warranty Summary: 2 Years Warranty
Covered In Warranty: Warranty of the Product is Limited to Manufacturing Defects Only
Not Covered In Warranty: Any Damage or Defect in Product Arising Due to Wrong Usage or Normal Wear and Tear
Domestic Warranty: 2 Year
International Warranty: 0 Months
Quick Preview