A design that allows the iron to be set down, usually standing on its end, without the hot soleplate touching anything that could be damaged. A thermostat ensuring maintenance of a constant temperature;
A temperature control dial allowing the user to select the operating temperatures (usually marked with types of cloth rather than temperatures: "silk", "wool", "cotton", "linen", etc.);
An electrical cord with heat-resistant silicone rubber insulation;
Injection of steam through the fabric during the ironing process;

A water reservoir inside the iron used for steam generation;
An indicator showing the amount of water left in the reservoir,
Constant steam: constantly sends steam through the hot part of the iron into the clothes.
1.Philips GC1905 1440-Watt Steam Iron with Spray from Amazon For Only – @ Rs.1,320
FEATURES:
To Prevent Water Leakage, keep the iron horizontal when not in use, do not fill water completely, leave some gap and wait for some time for the iron to heat up before using the iron
Easy and super fast filling of the watertank,Easy and super fast emptying of the watertank,A fine spray evenly moistens the fabric
Continuous steam output up to 13 g/min,Aluminium soleplate for easy gliding on all fabrics
Warranty: 2 years on product,Power: 1440 watts
Knob should always be at no steam position when product is not in use. Second and third setting is used only when soleplate is hot. Otherwise leakage will happen
2.Bajaj Majesty MX 3 1250-Watt Steam Iron from Amazon For Only – @ Rs.836
FEATURES:
Please wait for some time for the iron to heat up. Only then you can use the steam function effectively. If the iron is not heated enough and steam function is used, it will lead to water leakage
Non-stick coated sole plate to ensure safety of clothes
12 grams of steam output. 150 ml translucent water tank
Self clean. Power: 1250 watts. Variable steam control
SolePlate Size- Length: 18 cm, Width: 9.5 cm. SolePlate Thickness: 1.84 mm
Warranty: 2 years on product
3.Philips EasySpeed Plus GC2040 2100-Watt Steam Iron (Blue) – @ Rs.2,175
FEATURES:
To Prevent Water Leakage, keep the iron horizontal when not in use, do not fill water completely, leave some gap and wait for some time for the iron to heat up before using the iron.
Non-stick soleplate
Drip stop system
Steam boost up to 100 grams
Vertical steam
Triple precision tip
Even steam distribution up to 30 g/min of steam
Warranty: 2 years on product
Power: 2100 watts
Operating Voltage: 230 volts
Includes: 1 Steam Iron
4.Black + Decker BD BXIR2202IN 2200-Watt Steam Iron (Brown) – @ Rs.2,299
FEATURES:
Anti-drip feature to avoid any water dripping from the soleplate in case the steam level is not reached
Ceramic coated sole plate – even heat distribution and best for all types of clothes
35g/min continuous steam output and 90g/min steam boost
Visible water droplets in the water tank means the iron was tested in factory and passed the quality test
380ml water storage tank
Vertical steam : Ideal for all fabrics and saves time
Steam burst function and spray function
Anti-clock function to prevent scale build-up
Self clean feature to clean the scales built up
Warranty: 2 years on product
Power: 2200 watts; Operating Voltage: 220 – 240 volts
Includes: Steam Iron with Instruction Manual
5.Havells Sparkle 1250-Watt Steam Iron (White/Purple) – @ Rs.1,170
FEATURES:
To Prevent Water Leakage, keep the iron horizontal when not in use, do not fill water completely, leave some gap and wait for some time for the iron to heat up before using the iron.
Dry/steam ironing
Vertical burst of steam and 230ml water tank capacity
Non stick coated sole plate
Adjustable thermostatic control
Over heat safety protection circuit
15g per minute steam
Power: 1250 watts
Customer care no – 18001031313
6.Singer Sapphire 1600-Watt Steam Iron (Red) from Amazon For Only – @ Rs.1,299
FEATURES:
To Prevent Water Leakage, keep the iron horizontal when not in use, do not fill water completely, leave some gap and wait for some time for the iron to heat up before using the iron
Indicator light and swivel code
ISI marked, Teflon coated sole plate
Dry/Steam/Spray functions, adjustable thermostatic control and vertical steam
Powerful burst of steam, anti drip, anti calc function, elegant looks, cool touch plastic body, comfortable handle grip
Self clean Function
Please contact_us on: [ 18001033474 ]
Power: 1600 watts
Operating voltage: 220 – 240 volts
Includes: Steam iron and Instruction manual
7.Morphy Richards Super Glide Steam Iron(Blue) from Flipkart For Only – @ Rs.2,195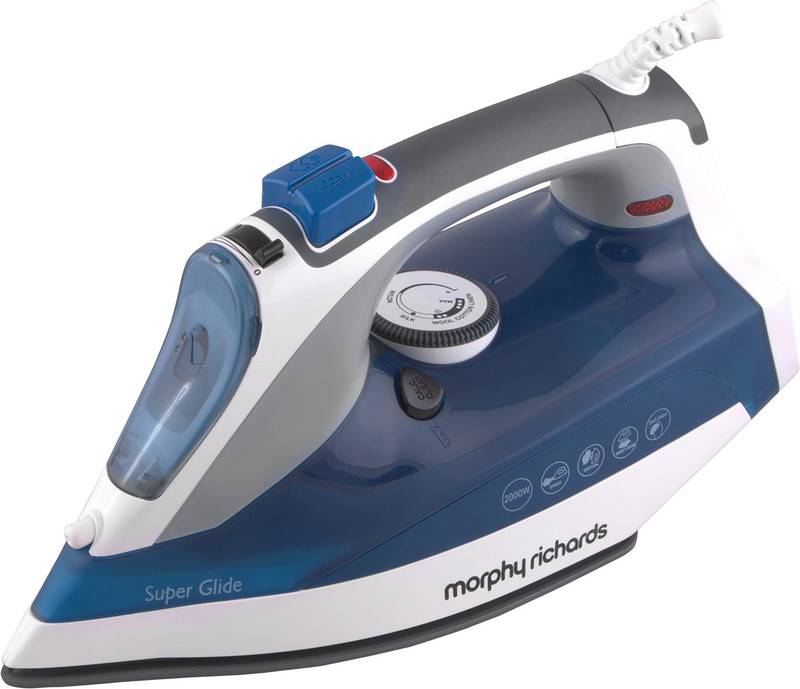 FEATURES:
Whether it is your husband's favourite suit, daughter's school uniform or your favourite cotton saree, get crisp and perfectly pressed clothes in a matter of minutes with this steam iron from Morphy Richards. Ceramic Coated Soleplate This steam iron comes with a ceramic coated soleplate that ensures smooth gliding on all fabrics, while the fine spray feature dampens the fabric for easy ironing. The soleplate has 46 steam holes which allow you to cover a wider area on the clothes with steam. Vertical and Turbo Steam With the 150g turbo steam shot feature, this Super Glide steam iron penetrates deep into the fabric of your clothes, thus removing stubborn creases with ease. You can steam and remove creases from hanging fabrics such as suits, jackets, curtains and blinds with the help of vertical steaming feature. Water Tank and Sharp Break This lightweight steam iron comes with a 350 ml clear view water tank which allows you to refill the tank even when the iron is on. The sharp break of this iron helps you reach tricky places along the seams and buttons quickly and easily.
Sales Package: Iron, Warranty Card
Brand: Morphy Richards
Model: Super Glide
Type: Steam
Color: Blue
Soleplate type: Ceramic Coated Soleplate
Temperature Control: Yes
Indicator Light: Yes
Spray: Yes
Steam Burst: Yes
Self Cleaning: Yes
Cordless: No
Water Tank Capacity (ml): 350 ml
Frequency: 50 Hz
Power Consumption: 2000 W
Power Input: 230 V
Height: 17.2 cm
Width: 13.2 cm
Depth: 31.2 cm
Service Type: On Site
Warranty Summary: 2 Years on Product
Covered In Warranty: Manufacturing defects
Not Covered In Warranty: Damage other than Manufacturing defect
8.Panasonic NI-E510 TDSM Steam Iron(Blue and White) from Flipkart For Only – @ Rs.2,215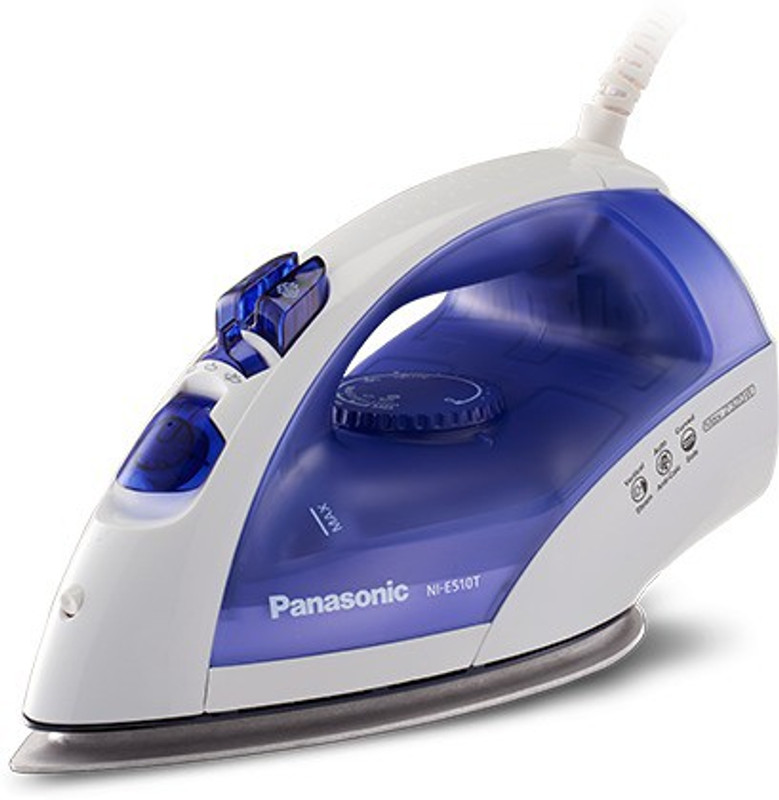 FEATURES:
Steam Iron-Stick Coated Curved Soleplate Plate2320 W
The brand Panasonic has recently introduced Panasonic NI-E500T DSM Steam Iron in the market. This is a steam type of iron, a device which releases steam from the holes on the sole plate. This type of technology helps a person when the surface is extremely dry. Using of steam type of iron helps to make the cloth wrinkle free in the very first go. This steam type of iron is quite light weight product which helps the user to use it with comfort and along with that it also has got a cool design. Some of the important features of this iron include Anti Calcium system and Vertical Steam generation.
Sales Package: IRON, User Manual
Brand: Panasonic
Model: NI-E510 TDSM
Type: Steam
Color: Blue and White
Soleplate type: Titanium, Non-Stick Coated Curved Soleplate
Spray: Yes
Steam Burst: Yes
Power Consumption: 2320 W
Height: 0.13 cm
Width: 0.12 cm
Depth: 0.3 cm
Quick Preview