Bags are an integral part of our lives, so whether they are small plastic bags or jute bags or even leather bags, every bag has its own importance and carries different functions and utility. Travel and storing are also in the important aspect where you simply cannot ignore the role of bags.Buy bags that will give you convenience in all matters that is easy to carry along and also give proper storage and various pockets to store different items together. Check here few durable and affordable travel bags/buffels available online.
Here's our list for 7 Best Travel Bags /Duffle In India
1.Aristocrat 21 inch/55 cm VOLT NXT DFT 55 Duffel Strolley Bag(Red) – @ Rs.1,154
FEATURES:
Protective lug1 Front pocketDetachable shoulder strap
Type: Duffel Strolley Bag
Ideal For: Men & Women
Capacity: 37 L
Size: 21 inch / 55 cm
Cabin Size: Yes
Material: Polyester
Color: Red
Expandable Feature: No
Style Code: DFTVON55ERED
Color Code: Red
Number of Wheels and Pockets: No. of Wheels: 2
Dimensions: L x B x D: 53 cm x 30 cm x 29 cm
Weight: 2010 g
2.Chris & Kate Space Saver Storage, Lightweight, Spacious 50 L Foldable Polyester Blue-White-Red Trolley Travel Duffle Bag Luggage with Wheels – @ Rs.999
FEATURES:
Outer Material: Polyester; Inner Material: Polyester; Well designed, Light-weight yet Strong and high quality Polyester Travel duffle-Trolley Bag; Color Multicolor.
Water Repallent: Yes; Compartments: 1; One large zipper back Pocket & 1 side pocket; Number of Wheels: 2.
Utility – ideal as Travel bags – fold-able for easy storage – great in place of a suitcase – excellent size for storing all type of clothes – can be used while going to long vacation.
Capacity: 50 Litres; Product Weight: 0.9 Kg; Dimensions (lxwxh) in cms: 28cmX55cmX29cm.
Chris & Kate has not authorized any other seller to sell their products. Buy genuine products by ensuring that the seller name is Chris & Kate only; Warranty type: Manufacture, Warranty is applicable if seller name is Chris & Kate; Accessories: High Quality Zippers & accessories, Well stitched, finished seams for added durability and extend its life. Accessories shown in the picture are not part of the bag.
3.The Clownfish Synthetic 45 cms Brown Travel Duffle (TCFDB20LBRD-1) – @ Rs.799
FEATURES:
Outer Material: Synthetic, Color: Brown
Water resistant
Capacity: 20 liters; Weight: 850 grams; Dimensions: 45 cms x 23 cms x 23 cms (LxWxH)
Number of Wheels: 0, Number of compartments: 1
Laptop Compatibility: No
Warranty type: Manufacturer; 1 year manufacturer warranty is non-transferable and valid for 1 year from the original date of purchase
Ideal for 2-3 day trips.Collapsible for easy storage when not in use
4.American Tourister Nylon 55 cms Blue Travel Duffle (40X (0) 01 008) – @ Rs.1,790
FEATURES:
Outer Material: Nylon
Color: Blue
Capacity: 61 Litres; Dimension: 55cm x 28cmx 31cm (L x W x H)
5.Wildcraft Flip Duf 2 Travel Duffel Bag(Grey) from Flipkart For Only – @ Rs.759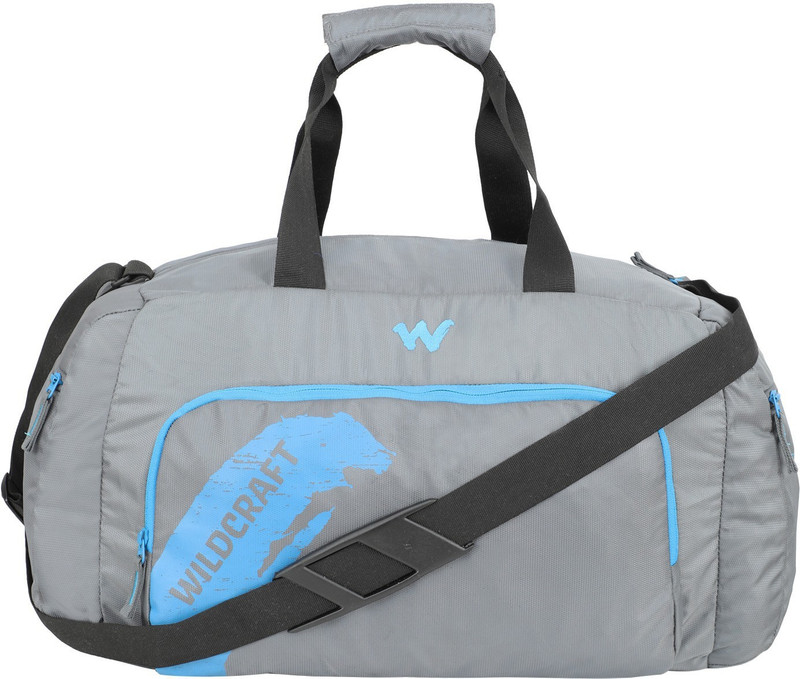 FEATURES:
A cabin-friendly duffle that's constructed out of a single piece of fabric to reduce wear and tear. It features a quick-access side pocket, a key loop for small accessories alongside a spacious main compartment.
Type: Travel Duffel Bag
Ideal For: Men & Women
Capacity: 40 L
Cabin Size: Yes
Material: Polyester
Color: Grey
Expandable Feature: No
Style Code: 11882
Color Code: Grey
Number of Wheels and Pockets: No. of Wheels: 0
Dimensions: L x B x D: 25 cm x 56 cm x 29 cm
6.American Tourister Nylon 650 mm Blue Travel Duffle (40X (0) 01 009) – @ Rs.1,890
FEATURES:
OuterMaterial: Nylon, Color: Blue
Capacity: 83 Litres
Dimension: 65cm x 30cmx 33cm (L x W x H)
7.The Clownfish Unisex Travel Bag Travel Duffel Bag(Brown) – @ Rs.1,290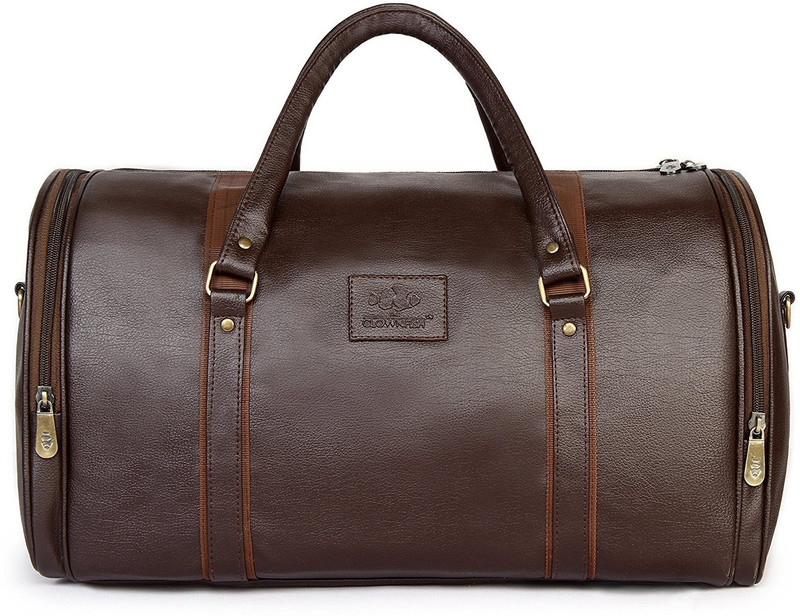 FEATURES:
Material:Artificial Leather
Number of Compartments: 1
Enjoy travel with our light D Bags! Handcrafted from Brown Premium Leatherette and lined with polypropylene, the surface is water and scratch resistant. These bags are easily collapsible when not in use. Additional features consist two side pockets, an adjustable padded shoulder strap and padded handles for comfort and mobility.
Type: Travel Duffel Bag
Ideal For: Men & Women
Capacity: 30 L
Cabin Size: Yes
Material: Artificial Leather
Color: Brown
Expandable Feature: No
Style Code: TCFDBFL-LS30LBR3
Color Code: Brown
Number of Compartments: 1
Number of Wheels and Pockets: No. of Wheels: 0
Dimensions: L x B x D: 28 cm x 47 cm x 25 cm
Weight: 810 g
Quick Preview